Hi, my name is Basia!
I'm a designer and maker behind Stardust Mine Jewellery and I create artisan, modern boho jewellery. All pieces are lovingly handrafted in my small studio in Krakow.
They are dreamy, feminine and elegant, inspired by nature, art and illustrations - especially the fineliner drawing technique.
Stardust Mine jewellery is meant to manifest the unique personality and style of the wearer. To adorn and compliment. I take my time during creative process and put my heart into every piece, making sure you are wearing something special and unique.
By shopping small and choosing handmade you are not only supporting an individual, an artist and creator. You are supporting an idea, values and quality!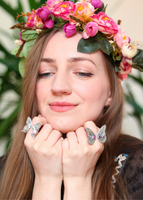 Testimonials
I am so so happy and they are so beautiful. You are a true artist Basia. Thank you for bringing so much beauty in this world that needs that these days.

Milena Sosa Schmidt
This is a unique and absolutely gorgeous pendant! I've never seen anything quite like it and will treasure it! Thank you, StardustMine, for sharing your creativity!

Patricia Hecht
I'm obsessed! It is truly magical. Thank you!

Shannon Rowden
Creative process
How to clean your jewelry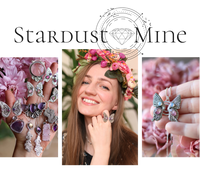 OCCASIONAL NEWSLETTER TO KEEP YOU IN THE LOOP!
Simple email that will keep you updated about new pieces, sales and events. 
Get the essence, not the essay!
JOIN THE COLLECTOR'S NEWSLETTER
Let customers speak for us